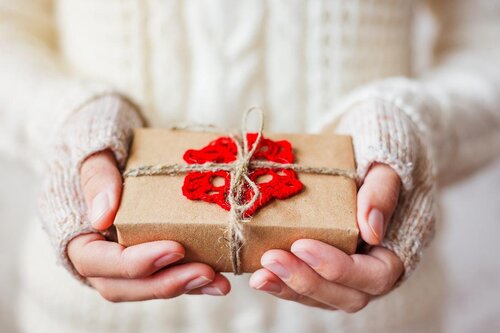 It's a magical time of year and shopping is in full swing. Tech gifts are always popular – but what else could we fill stockings with? Screenagers shared the following article with some non-tech gift ideas.
This time of year, everyone is busy running around trying to find the perfect gift. What people don't realize is you often don't need to go to a store to find it. Giving experiences can have a longer-lasting and greater impact than giving the latest toy, gadget, or piece of clothing. Experiences promote connectivity, togetherness, and lifetime memories, whereas, the latest and greatest thing has a shelf life, which is usually six months to a year until the next greatest thing comes out. 
The gift of spending time with your kids and other loved ones is one of my favorite things to give, especially when it involves laughter. We have a little improv theater near our house, and I am going to give three tickets to the theater for each of my teens so they can plan a trip with friends or me to see a show. This also works with movie tickets, concerts, a play, a dance show, and more.
In my town, we also have a beading store that offers one-time lessons on simple beading techniques. I have been considering a certain class as a gift this year (since Tessa reads my TTTs, I don't want to give away too much). What's great is that whenever my teens have taken this or other types of community classes, they meet all sorts of new people, often interesting and creative adults.
For kids as young as 5 to say 11, another cool thing is to create gift classes that you and a friend both decide to do. So, for example, I could teach a fun international music and dance evening. Or make sushi. It is easy, at a minimum, you just need rice, seaweed, a veggie-such as avocado, and soy sauce. Or, my friend could teach them macrame. To add to these experiences, we could offer physical gifts with each class, such as a gift card for new music, or some yarn for macrame.
I am a huge fan of improv. In addition to gifting tickets to a show I mentioned above, why not gift everyone a family improv night. I truly think that the world would be an exponentially better place if all kids ages 5 to 18 did some improv classes every year. It is all about working together while being creative and silly and getting past our ego. Wrap this book of improv games with a card inviting everyone to a family improv night.
Give the family some games and a calendar with dates marked for family game night. Openly commit to playing a certain number of times over the next two months, rather than just during the holidays. This works very well for younger kids who are so eager to have game playing partners.
Giving the gift of spreading compassion or connecting with family far away is a nice one. A woman in our office gave her kids stationary and some cool stamps so they could write to their grandparents in another state.
One of my favorite things to do is help others. I like to give my children gifts that enable them the opportunity to help others too. One year I gave my daughter $50 to do a micro-loan on Kiva. Since then, we have used the return of the loan to donate to others.
When my son was 11, I got him a cookbook called Get Cooking, authored by a teen from England named Sam Stern. Even though we keep moving every two years, I have made sure to keep this book. I highly recommend getting a cookbook and making food together. Another idea is making your own cookbook together full of family recipes. You can handwrite the ones your kids love and then make some of them together. Leave extra blank pages to add more over the years. My film partner, Lisa's husband, received one of these from his aunt when he graduated from college, and he uses it regularly.
If you buy gifts, make unwrapping fun. Put wrapped boxes inside bigger boxes, so they have to unwrap all of them to get to the present. If you get a newspaper look for a comic strip page that you can use to wrap the inner boxes. Another fun experience is making it a scavenger hunt. Hide gifts around the house and write clues. Your kids will have to figure out where the gifts are, based on the information you give. One of the women in our office has done this with her kids since they were small. Now teens, they still love the experience of figuring out and finding their gifts.
One last thing I wanted to leave you with is what people shared with me on Facebook about the non-tech gifts they are giving this year:
AK: Glow in the dark capture the flag game
PW: A Carolina Hurricanes hockey game for the whole family 😊
MO: Hover boards and RC cars to get them outside, clothes and books, craft supplies
KD: Books and board games. (And a trip to TN for a family reunion)!
VN: Tickets to see Hamilton.
DP: An actual book. Where you can dog-ear the pages, write meaningful notes in the margins and smell the ink and paper. ❤
FP: Books! Certainly.
JF: Ski trip and NBA tickets!
AG: Passport subscription box
LH: Can jam is a great outdoor Game so is spike ball
ARL: Books, journals, art supplies, kiwi crate subscriptions, National Geographic kids monthly subscription, outdoor toys, Legos, model rocket, bath fizzy making book and gift card for supplies.
KD: Things to get them moving and outside: Disc golf supplies (discs, backpack, target), skimboard, bike lights, pogo ball.
TP: Camera lens for her to continue her wildlife photography passion not using her phone!
CM: Color changing glue for slime and puzzles!
MB: Lego's, Basketballs, crepe pan
LN: Cooking classes
PJ: Puzzles
KO: Books, board games, shoes, sweaters, art supplies (all straight from her Christmas list).
LG: Snowshoes!
SN: Gift cards to places they like and clothing stores. Experiences…
CA: My 17-year-old asked for Pictionary!!!
AP: Art supplies clothes maybe gift card or cash…toys for my lil ones ❤
AG: Legos and board games galore!
JK: Board games, books, dart board, hiking boots.
MM: A Bed tent, wallet w gift cards to places he likes for a treat (like local sandwich shop), bathtub crayons and art supplies, consumable and unique stocking treats, school logo fleece, PJs, electric smores maker
LM: New bikes, experience gift (six flags) & clothes
LL: Art supplies, journals, clothes. The only tech under the tree if from husband to father-in-law for his tv
JD: Want, need, wear, read. I use this every year.
HB: Tickets to the aquarium, Uno-attack game, Pokémon cards
AS: Passes or a membership to an amusement park, zoo, museum, science center, etc. Tickets to a sports game or concert. Enrollment in an activity, lesson or class they'll love.
MM: Scuba gear, puzzles, clothes, Eureka crates, pet toys and treats.
SJ: A live theatre outing. Hiking backpack Dive mask and snorkel 
SW: Balance Boards (and books and board games)
CS: Board games 
NS: indoor/outdoor tennis table
RM: Pinwheel for my younger son 🤣
ES: Tickets to see Cirque, the Harlem Globetrotters, and a museum exhibit. Also a family hiking 
NM: Books, sports equipment, and supplies for other hobbies including wood whittling, drawing, and sewing. Plus tickets to a fun event for us to enjoy altogether instead of a bunch of things.
SM: Books and board games. One allows for quiet time adventures, the other conversation, and competitiveness. I teach art, so that's a given.
AH: Our family is going to see Waitress in San Jose. I'm also trying to promote secondhand shopping with my teens. Only one of four is interested now. So, I'm trying to think of cool secondhand gifts. Musical instruments are all I've thought of so far. 
AH: Earth-friendly stocking stuffers suggestions: coupons for sitting shotgun in the car, controlling the radio in the car, breakfast of choice, chore-free weekend, etc. 🤞🏽